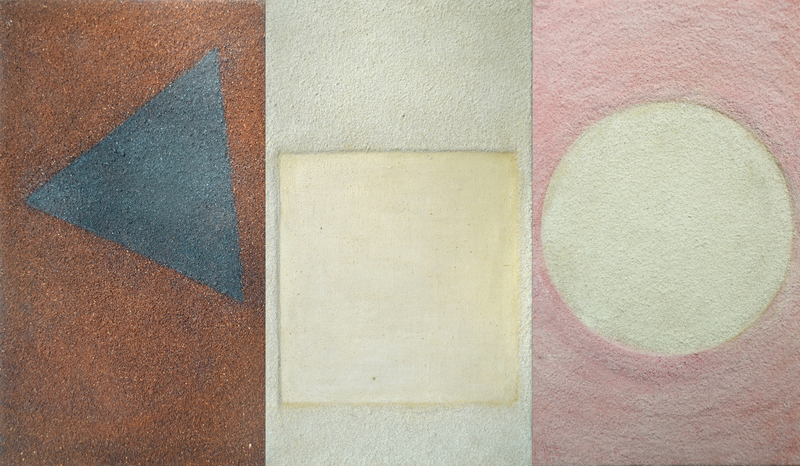 75 x 134 cm, © 2017, not for sale
Two-dimensional | Painting | Mixed Media | On canvas

Food triptych:
Triangle, square and circle in a new context together, as the food powders and charcoal add new layers.
This 3 panel work tells a more complex story than just triangle, square and circle.

Remember your first mathematics lessons where these forms popped up with all kind of different equations to be solved? Visiting Zambian and Malawian schools does realize that this is universal. Visiting many cultural places (amongst them Mua Mission Malawi and Wayiwayi Art Studio and Gallery in Livingstone, Zambia) several examples where found of the use of circle, triangle and square as general used symbols and in Africa this history goes way back in time and maybe even before they popped up in Europe.
These forms where, later in history, the main building blocks (though he spoke about sphere, cone, cube and cilinder) in the theoratical approach of Paul Cezanne (which finally led to cubism) and heavily used in the art movement minimalism and post-minimalism. In the art practise here is is also used on a regular bases as honour to minimalism and post-minimalism. In the African context here, it is more used as a start to explore the use of these forms / symbols in Zambia and Malawi and try to find historical evidence of their already long existence.