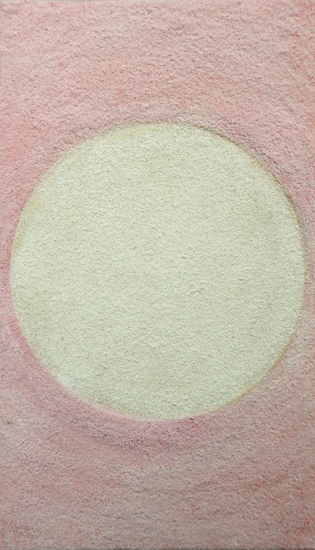 75 x 45 x 3 cm, © 2017, not for sale
Two-dimensional | Graphic | Mixed Media

'Centered circle'
Nestle strawberry drink powder and Maize flour, wood glue and varnish spray-paint
44,5cm x 75cm x 3cm

Color pink is coming from Nestlé strawberry drink power and using a food item from Nestlé, I want to point out I'm interested in the taunting role of the 10 main food multinationals (Nestlé / Unilever / KraftHeinz (2015) / Coca-Cola / Pepsico / Kellogg's / Johnson&Johnson / P&G / Mars / General Mills (beware of the sudden changes of fusions in this world)(source: Huffingtonpost).

With taunting is meant: getting rich over the back of the poor (maybe a side affect, but it is a known side effect which could and should be prevented), the history of exploitation of poor people in poor countries (in Africa: Unilever) and their role in the inequality of food distribution over de world and the almost monopoly possession of resources (money and other sources). I'm not saying they all do this or they all do this in the same extent, but they are all multinationals, containing huge amount of power and money in a way which is repulsive.

Color 'Natural white' maize flour is used here as pointing out its present day's main staple food source after it took over this staple food market, it minimalized diversity and it stands for its political use (it keeps the poor farmers poor) in Africa (Zambia and Malawi) as much it stands for more deforestation and a not so healthy main food source (white carbohydrates = sugar) under the less privileged.