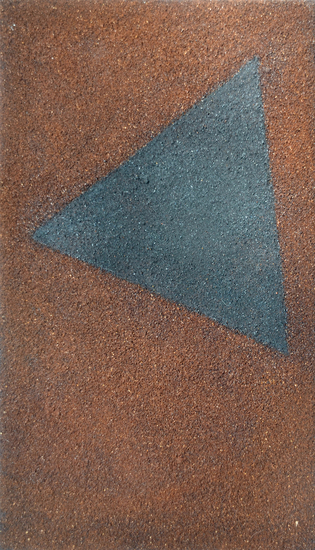 75 x 45 x 3 cm, © 2017, not for sale
Two-dimensional | Painting | Mixed Media | On canvas

'Tilted Triangel'
Grounded Malawian coffee, Charcoal dust, wood glue and varnish spray-paint on canvas
44,5cm x 75cm x 3cm


Color black charcoal is used here because it is "overused" in Malawi for cooking (probably as result of deep poverty and the lack of payable alternatives) and leads to further deforestation. Farming did the first large stretch of deforestation and still does.


Color brown Malawian grounded Coffee is used here as a product to 'paint' with as coffee is a "luxurious" product and a product that stands for unfair payments to (a lot of) coffee farmers (who hardly can afford coffee themselves) for the enrichment for a few dealers and some multinationals.

Using food powder as colors is ethically not so easy. Using 1kg of this Nestlé powder, 1kg of maize flour, 500 grams of coffee and 500 grams of cassava flour as an art material is not spoiling food, but transforming a food item into important necessary art-material into an artwork which meaning would not be there if another, normal art material (paint) would be used. In the context of Malawi, one of the poorest countries in the world, this is not so easy, but important to state.